Spinal Cord
The spinal cord extends from the foramen magnum at the base of the skull to the level of the first lumbar vertebra. The cord is continuous with the medulla oblongata at the foramen magnum. Like the brain, the spinal cord is surrounded by bone, meninges, and cerebrospinal fluid.
The spinal cord is divided into 31 segments, with each segment giving rise to a pair of spinal nerves. At the distal end of the cord, many spinal nerves extend beyond the conus medullaris to form a collection that resembles a horse's tail. This is the cauda equina. In cross section, the spinal cord appears oval in shape.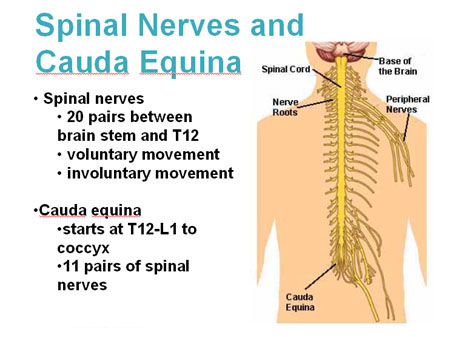 ---
For more information about anatomy of brain and CNS, go to the Nervous System section of the Anatomy & Physiology module on this Website.