Pathology
Key Information
Cell type, grade of tumor, Gleason's grade or score, exact size of lesion, number of microscopic foci (if tumor is occult), multifocal tumor, nodularity in both lobes of prostate, invasion into or through the prostatic capsule, invasion of apex of prostate, size and number of lymph nodes involved (including micrometastases), structures removed (ductus deferens, seminal vesicles, prostatic urethra), extension to adjacent tissues (seminal vesicles, rectum, bladder neck, floor of bladder, urethra, perineum, soft tissues), results of biopsies of distant sites or lymph nodes.
Key word:
Apex of prostate—the narrowest part of the prostate (at the lower edge)
Transrectal/transperineal Needle Biopsy:
Includes: standard needle biopsy, core biopsy, skinny-needle biopsy, fine needle aspiration (FNA). Excludes: any procedure requiring incision or transurethral approach. This procedure is performed by inserting a needle through the perineum (external) or via the rectum through the rectal wall to penetrate areas of nodularity or induration of the prostate. Fluid or tissue suitable for cytologic analysis is drawn up into the needle, which is withdrawn from the prostate. Multiple random needle biopsies may be performed to determine if tumor is multifocal.
Pelvic Lymphadenectomy
Cytology Reports
Washings
Thoracentesis
Schematic Drawing of a Sextant Biopsy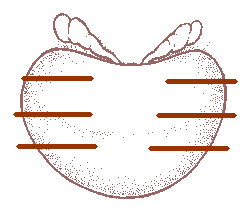 Sextant biopsy:
Six directed biopsies in different areas of the prostate, usually under ultrasound guidance. The core biopsies provide more information about the size and location of the tumor than a single biopsy could. Cores are taken from the right and left sides of the prostate near the apex, near the base, and from the central portion of the prostate.
Go to the Pathology page of the Diagnostic Tests module for more information.