Larynx & Trachea
Larynx
The larynx, commonly called the voice box or glottis, is the passageway for air between the pharynx above and the trachea below. It extends from the fourth to the sixth vertebral levels. The larynx is often divided into three sections: sublarynx, larynx, and supralarynx. It is formed by nine cartilages that are connected to each other by muscles and ligaments.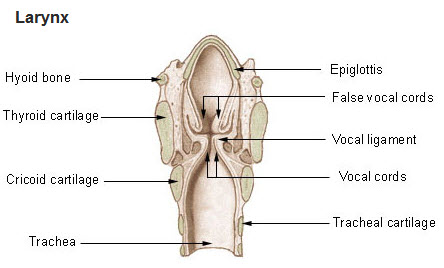 The larynx plays an essential role in human speech. During sound production, the vocal cords close together and vibrate as air expelled from the lungs passes between them. The false vocal cords have no role in sound production, but help close off the larynx when food is swallowed.
The thyroid cartilage is the Adam's apple. The epiglottis acts like a trap door to keep food and other particles from entering the larynx.
Trachea
The trachea, commonly called the windpipe, is the main airway to the lungs. It divides into the right and left bronchi at the level of the fifth thoracic vertebra, channeling air to the right or left lung.
The hyaline cartilage in the tracheal wall provides support and keeps the trachea from collapsing. The posterior soft tissue allows for expansion of the esophagus, which is immediately posterior to the trachea.
The mucous membrane that lines the trachea is ciliated pseudostratified columnar epithelium similar to that in the nasal cavity and nasopharynx. Goblet cells produce mucus that traps airborne particles and microorganisms, and the cilia propel the mucus upward, where it is either swallowed or expelled.